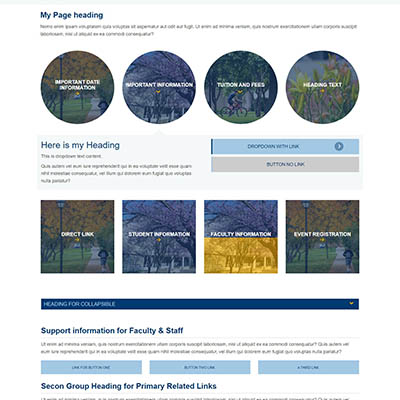 Web page layout options
Our single column page template has a number of design elements available to create interesting layouts. In cascade we refer to these design elements as 'modules.' In 2018 we moved to this single column format which contains a lot of opportunities for images and ways to break up text.
We designed these elements to have different visual weights. Generally speaking, visual weight is equivalent to how important each part of the content is on the page. Content should have a hierarchy based on importance and the elements should reflect the relative importance. 
Please use this PDF for referencing web page module options.
Primary Content options
Introductory Text
Featured Links
Collapsible Items/Regions
Primary Related Links
Graphic Links
Featured Text
Secondary Content options
Below the Secondary Content are 'News/Events' and 'Contact' sections.

Introductory Text
Featured Links
Related Links
News / Events
Contact Section