Published : Thu 03/28/19 Updated : Thu 04/18/19 Category : General
(This list is not all-inclusive. It only shows those changes that will impact faculty the most. The date the updates will take place changes from month to month. You can expect the following updates to be in place by the end of the month.)
Activity Feed – Daylight changes to attachment icons
The icons used to attach content to Activity Feed posts have been updated.


Assignments – Annotate learner submissions
Instructors can now use the built-in annotation toolbar in Assignments to provide contextual feedback with highlighting, free hand drawing, shapes, and associated commenting. This allows instructors to complete all their evaluation and feedback work directly in Assignments, without the need to use any external tools or applications. Annotations remain editable until the feedback is published by the instructor. If instructors want to add additional feedback after publishing, they can update the annotations and re-publish them.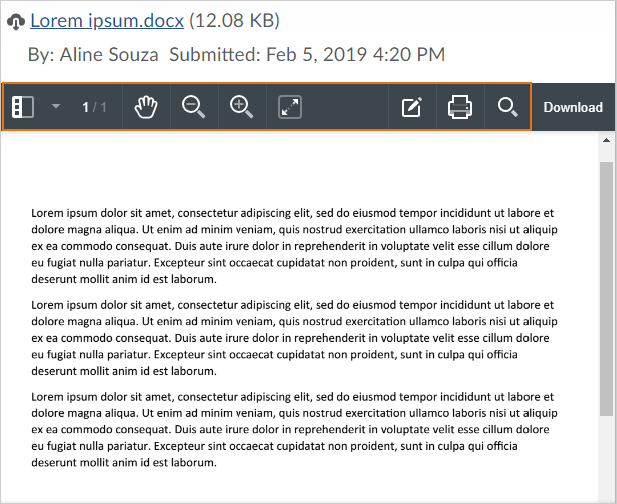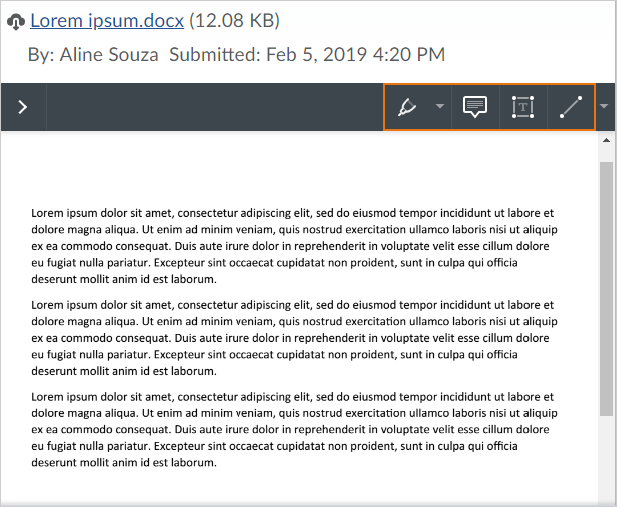 Assignments – Improvements in Assignments
This feature includes the following improvements:
Learners can now submit .cs file types as assignment submissions.
Instructors can publish draft assignment feedback in bulk by clicking Publish All Feedback.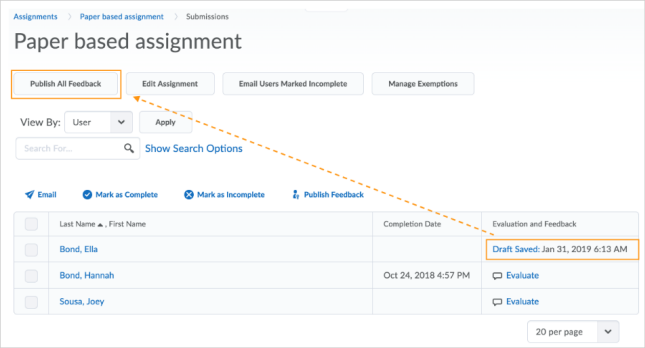 Content – SCORM content report updates
The new SCORM engine now includes Interactions and Objectives reports, and can be accessed by navigating to SCORM Reports from a course's reports page (Content > Table of Contents > Related Tools > View Reports > SCORM Reports). In addition, three new buttons appear on the screen to access reports for selected topics and users:
Summary: Displays a summary of the attempts a user has made at completing quizzes.
Interactions: Displays a list of the interactions corresponding to submitted answers to questions
Objectives: Shows a list of the objectives defined within the SCORM package, and the user's progress toward attaining them.
Report data can be exported in CSV format by clicking Export Statistics on the page you wish to export. SCORM reports may not contain any data, as SCORM objects are not required to report interaction or objective data. Note that users of the old SCORM engine already have access to these reports.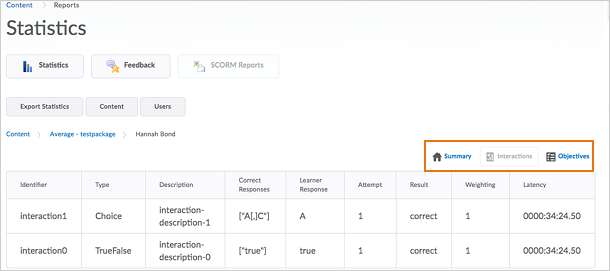 Rubrics – Rubric icon criteria changed
The checked rubric icon now displays only when a rubric has been fully scored by the instructor. Previously, the checked rubric icon displayed for partially or fully scored rubrics. The unchecked rubric icon displays when a rubric is unscored, or partially scored to provide instructors and learners with more visual information about the status of the rubric.