Published : Wed 03/27/19 Updated : Thu 04/18/19 Category : General
(This list is not all-inclusive. It only shows those changes that will impact faculty the most. The date the updates will take place changes from month to month. You can expect the following updates to be in place by the end of the month.)
Activity Feed – Video attachments render and play inline
Instructors can attach videos to Activity Feed posts that render directly in the feed. Videos from YouTube, Vimeo, and TED, now render and play inline within activity feed posts. Thumbnails are placed in posts and allow learners to watch videos directly from their course homepage without having to leave D2L.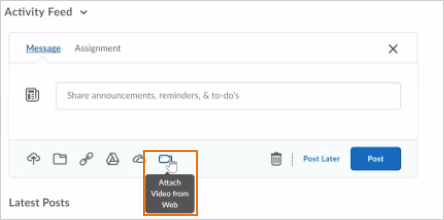 Exemptions – Additional launch points
This feature provides instructors the ability to launch the Manage Exemptions page from the following tools:
The Assignments tool:
On the Assignment Submission Folders page, in the context menu of an assignment folder
On the Assignments page as a button at the top of the page
The Discussions tool:
On the Discussions List page, in the context menu of a topic
On the View Topic page, in the context menu beside the topic name
On the Assess Topic page as a button at the top of the page
The Quizzes tool:
On the Manage Quizzes page, in the context menu of a quiz
On the Grade Quiz page as a button at the top of the page
HTML Editor – Advanced image editing
This feature updates the HTML Editor to include expanded image editing capabilities for the WYSIWYG editor. Instructors can now edit images in place (including flipping, rotating, and adjusting brightness, sharpness, and color), edit the image description, and edit the size of the image. Instructors can save image edits to the Manage Files area, while Students can save images as attachments.
This update is currently exclusive to creating discussion posts, announcements, and content (excluding module descriptions)
Note: Image changes save at the course-level root to Manage Files or as new file attachments to the item (e.g. Discussions) every time a change is made. Multiple edits, in turn, create multiple files. If the course is copied, all image edits are copied as well.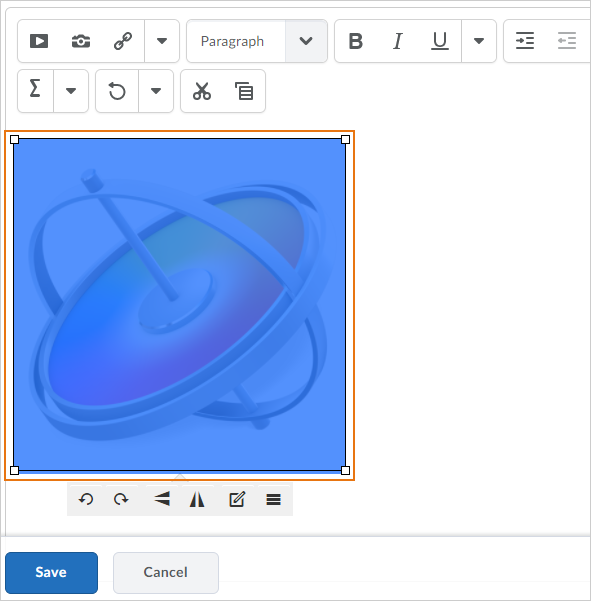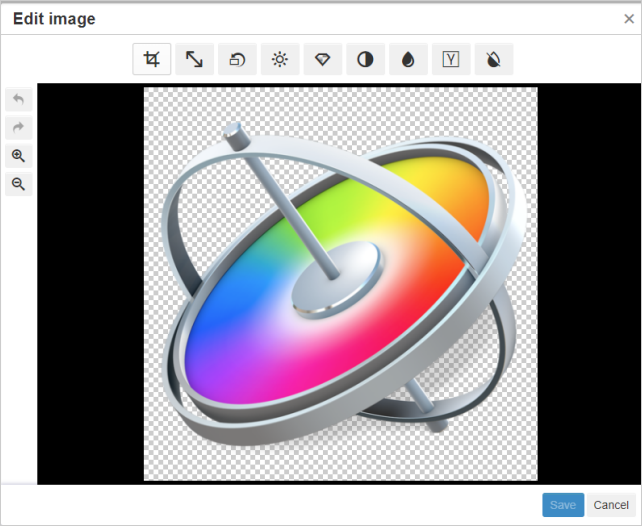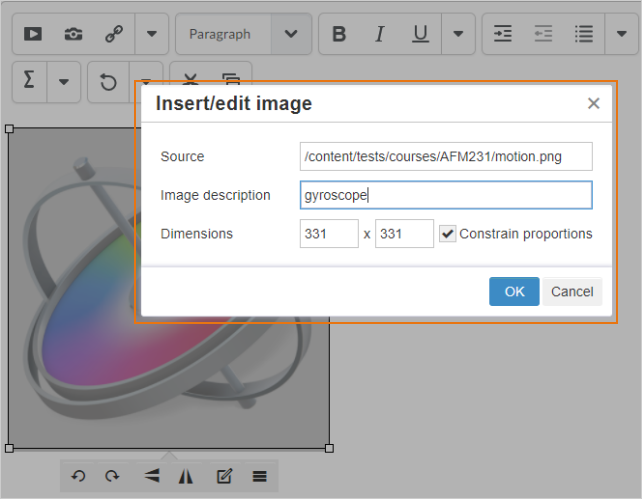 Manage Users – Preferred names support
When user accounts are created or updated in D2L through the Banner integration, each user's legal first and last name are used. However, some users may want to use preferred names that are distinct from their legal names. For example, a transgender user with a different first name or a user commonly known by their middle name.
This release introduces preferred names support allowing administrators to define a preferred first and last name. So contact online-ed-support@washburn.edu with any preferred name requests.
Once a user's preferred name is set, it appears everywhere in D2L, in place of their legal name. For example, the Classlist tool, discussions, their personal menu, assignment submissions, and reports.
Quicklinks – Self-Enrollment groups link
Instructors can now insert a Quicklink to self-enrolling groups. This update provides learners a direct path to sign up for their group and a new Group Self-Enrollment screen.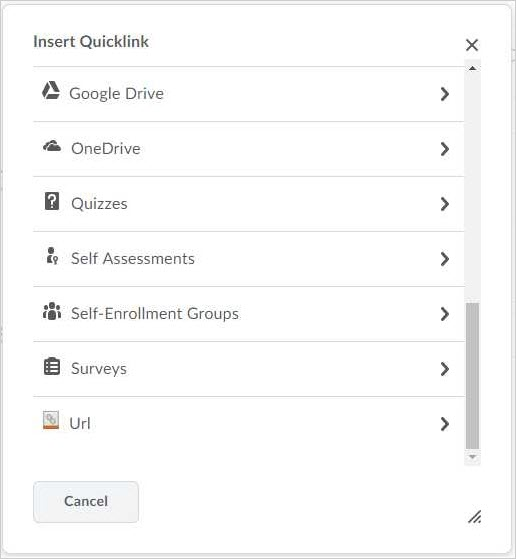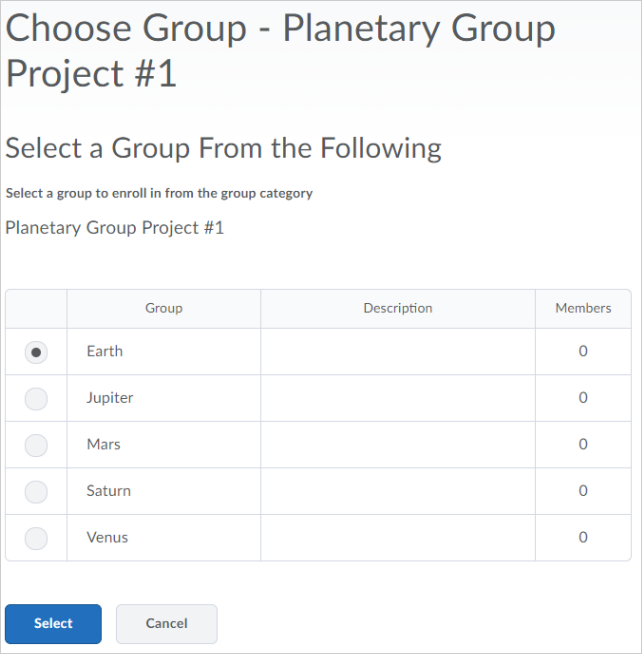 Quizzes – Due dates available
To improve the consistency of dates across tools in D2L, due dates are available for quizzes. This allows instructors to better communicate when quizzes are due, and better identify when a learner submits a quiz late. This change impacts when quizzes are marked as late. A quiz is now considered late if it is submitted after the due date is reached. Previously, 'late' referred to attempts submitted after the time limit of an 'enforced time limit' quiz was exceeded. Quizzes submitted after the due date are labeled 'submitted late'. Quizzes submitted after the time limit is reached are now labeled as 'exceeded time limit'.