Category : General
When copying a Desire2Learn course's materials into another course, instructors who have copied Respondus LockDown Browser quizzes must take an additional step for their quizzes to work correctly.
After the course copy is completed, instructors should navigate to Assessments > Quizzes. There, select LockDown Browser and Monitor Dashboard.
The first time navigating to the LockDown Browser and Monitor Dashboardafter a course copy, an instructor may see this message:

In many cases, this step is sufficient to ensure that copied quizzes will behave correctly. However, please select the X in the upper right of that message to proceed to the Dashboard.
Please check that all quizzes listed have either Required or Not Required displayed under the LockDown Browser and/or Respondus Monitor columns. If any quizzes indicate Error with a Fix It button, please select the Fix It button.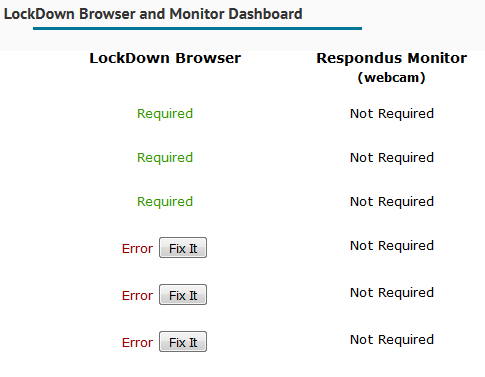 When all the Fix It buttons have been selected, please refresh your browser. Please ensure that all the errors have been cleared. If they persist, Online Education Support recommends modifying the settings for an individual quiz to not requiring the LockDown Browser, Saving and Closing that setting, then modifying the settings again to require the LockDown Browser, then Saving and Closing.